Pink G Flavors and Flourishes
October 2017
Embrace Simplicity and Routine
Autumn has firmly planted its stake in the ground. We're moving to a pace set by busier schedules and fewer hours of sunlight. It's a time of year we love for sights – fiery colored leaves, smells – apple cider, bonfires, and sounds – rustling leaves, cheers rising up from football stadiums.
As we try to squeeze so much into these amber-hued, shorter days, take a moment to consider the importance of simplicity and routine. Simplicity gives us space (emotional and mental); routine conserves energy. Less time fussing with routine tasks frees us to enjoy the moments that matter.
Cooking and entertaining duties are ripe for streamlining this time of year.
Fall back on easy-to-fix, flavor-forward recipes that yield more time for conversation and connecting with family and friends. This month I share two beautifully simple recipes – Mushroom Bruschetta and Antipasto Olive Salad and Creamy Feta Spread – that work well as appetizers or accompaniments to a light lunch or supper.
Transform home décor with the addition a few simple, classic items – wooden trays or glass bowls and jars of varying sizes and shapes. Adorned with the season's bounty of nuts, gourds, bittersweet or dried grape vine, these fuss-free decorative pieces lend a subtle hint of the season that works through Thanksgiving.
Reacquaint yourself with simplicity and routine. You'll want energy for the holidays! More on that in next month's column.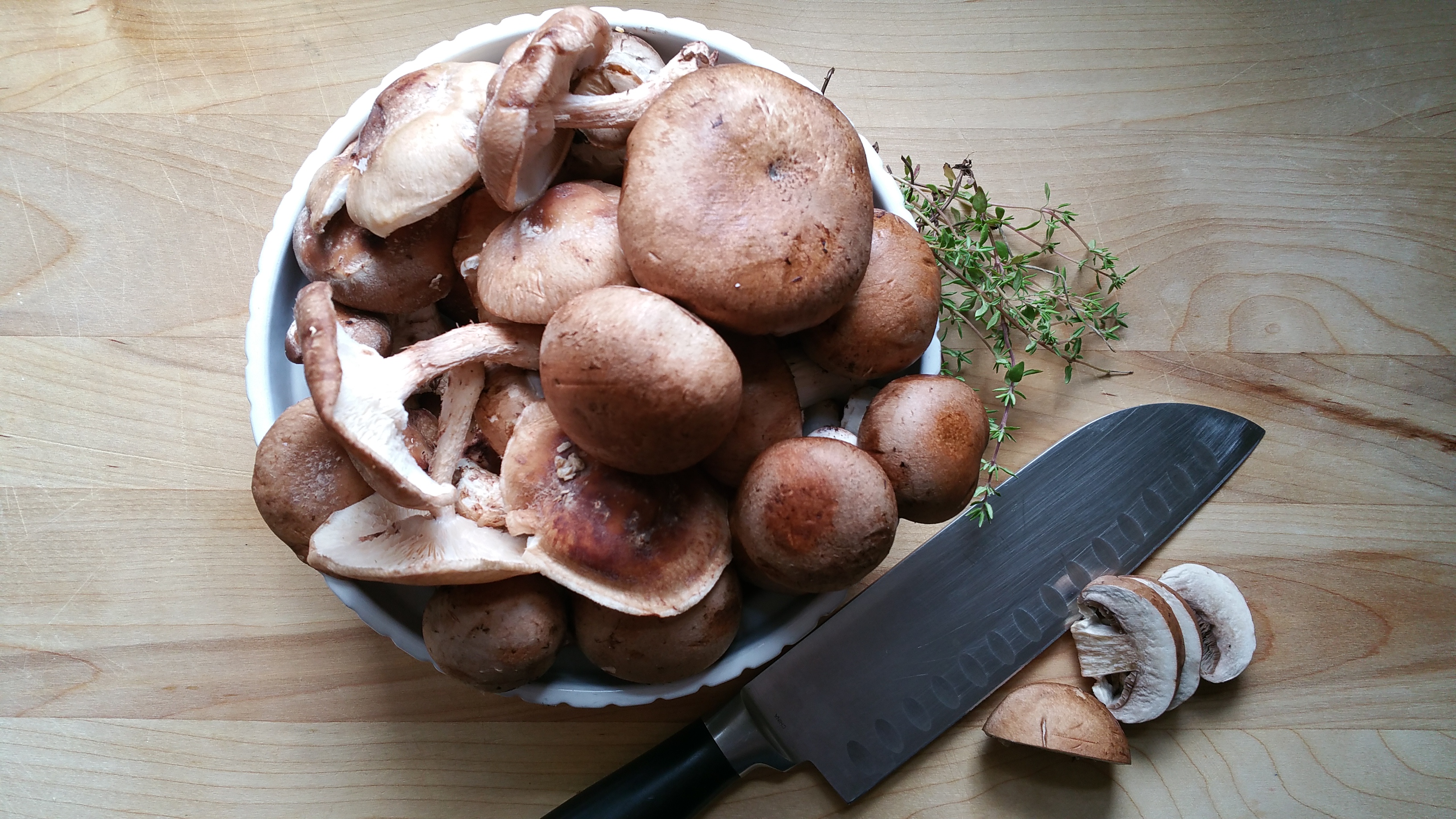 Mushroom Bruschetta
6 cups assorted fresh mushrooms, such as crimini (baby bella), shitake and white
Grated rind and juice of one lemon
½ teaspoon salt
1 tablespoon chopped fresh thyme (1/2 teaspoon if using dried)
1/3 cup white wine
2 tablespoons butter
Olive oil for sautéing
Wash and slice mushrooms. If using shitake, discard stems. Saute mushrooms in skillet lightly coated with olive oil over medium heat. Stir occasionally until mushrooms are cooked, lightly browned and softened. Add wine and lemon juice to pan; scrap brown bits from bottom of pan and stir to deglaze. Continue stirring mushrooms and liquid over low heat until liquid is reduced, about five minutes. Add salt, thyme and butter. Turn off flame and stir until butter melts and is incorporated. Add salt and pepper to taste.
Serve over toasted, thin slices of French bread arranged on a platter. Sprinkle with lemon rind.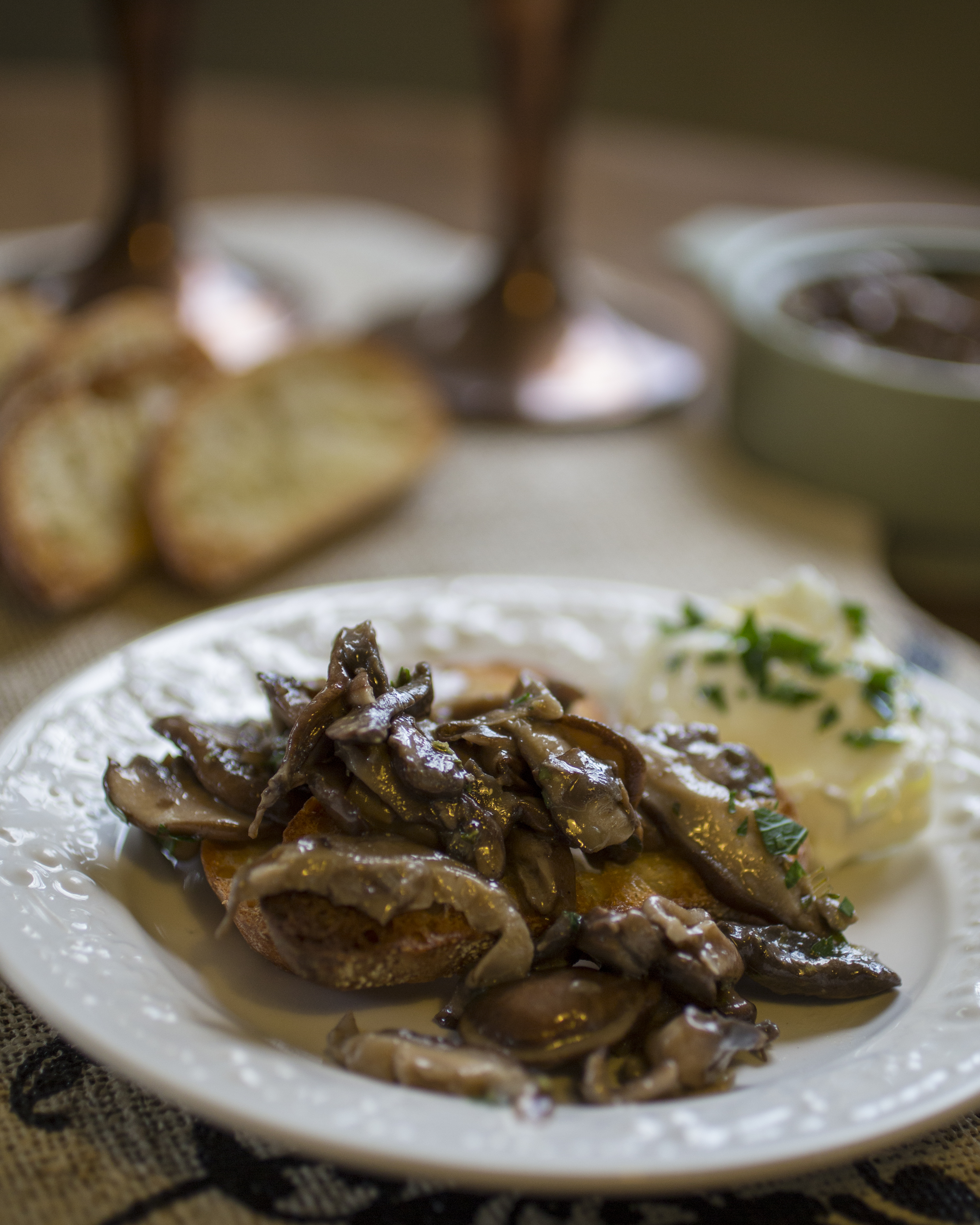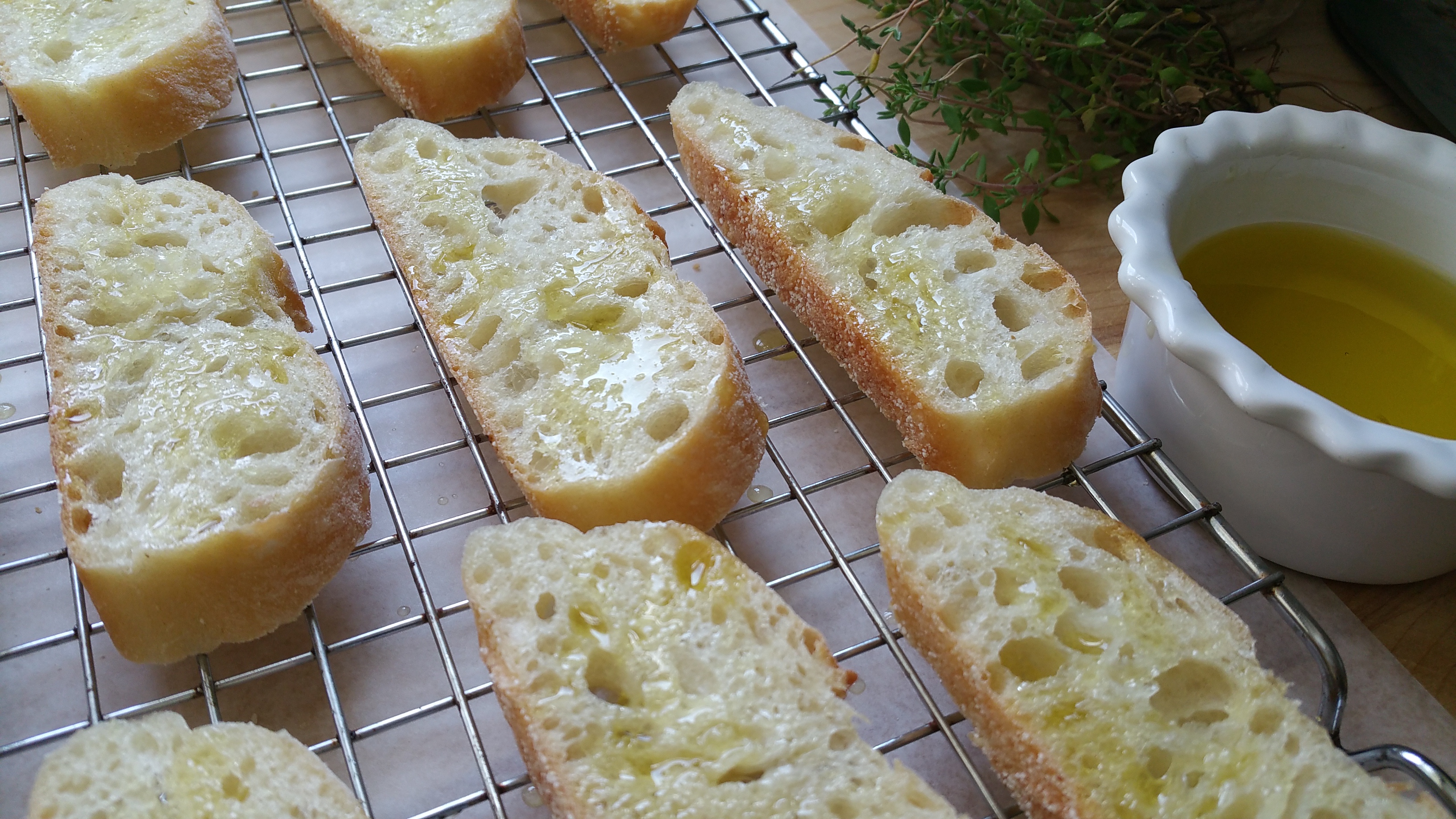 Antipasto Olive Salad 
3 cups pitted green olives (I use large Manzanilla olives)
1 cup marinated mushrooms*
1 cup marinated artichoke hearts, quartered
1 cup pitted black olives
3-4 celery heart stalks, with leaves, rough chopped
Peel of one orange (2-3" long, thick strips)
¼ teaspoon salt
1 tablespoon chopped fresh oregano
1/3 cup chopped fresh parsley
¼ teaspoon red pepper flakes
¾ cup olive oil
Fresh cracked black pepper to taste
Cut green olives in half. Combine all ingredients in bowl, toss and refrigerate for at least two hours. Bring to room temperature before serving. Serve with pita chips or thinly sliced baguette and Creamy Feta Spread (recipe below).
Creamy Feta Spread: Mix 4 ounces softened cream cheese with 8 ounces crumbled feta until creamy and combined. Stir in juice of one lemon 2 tablespoons olive oil. Add pinch of salt and fresh pepper to taste.
*Available in supermarkets near pickles and olives.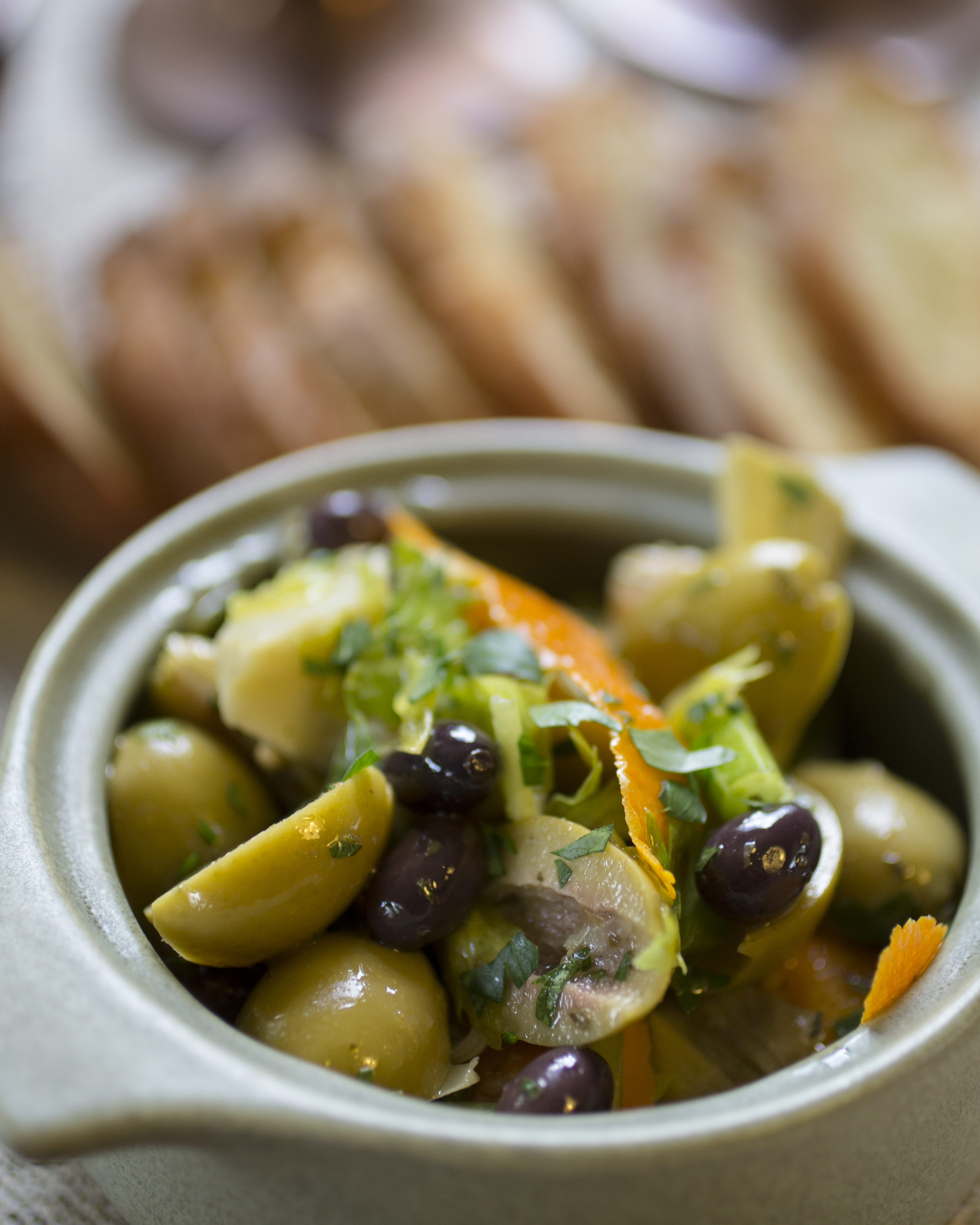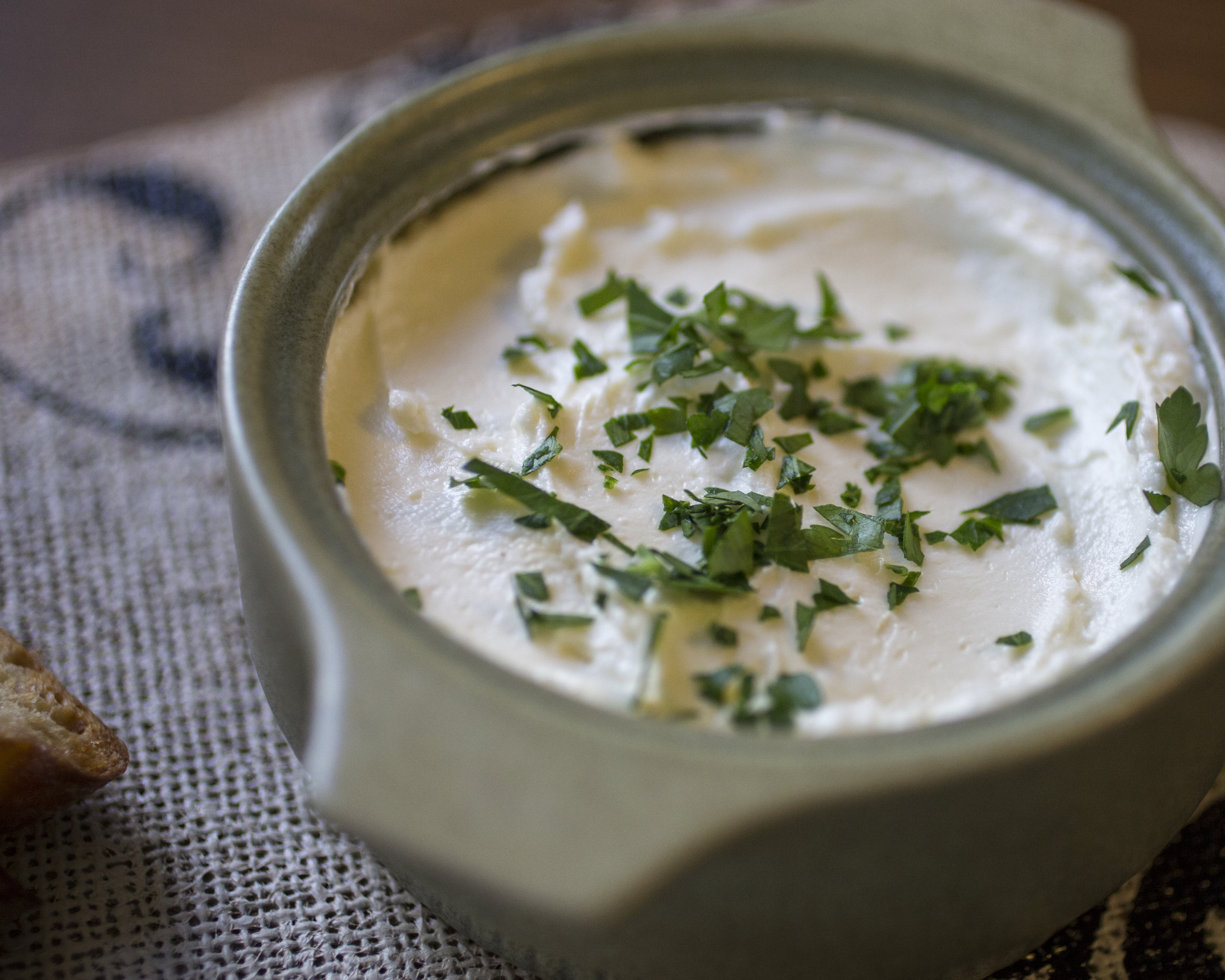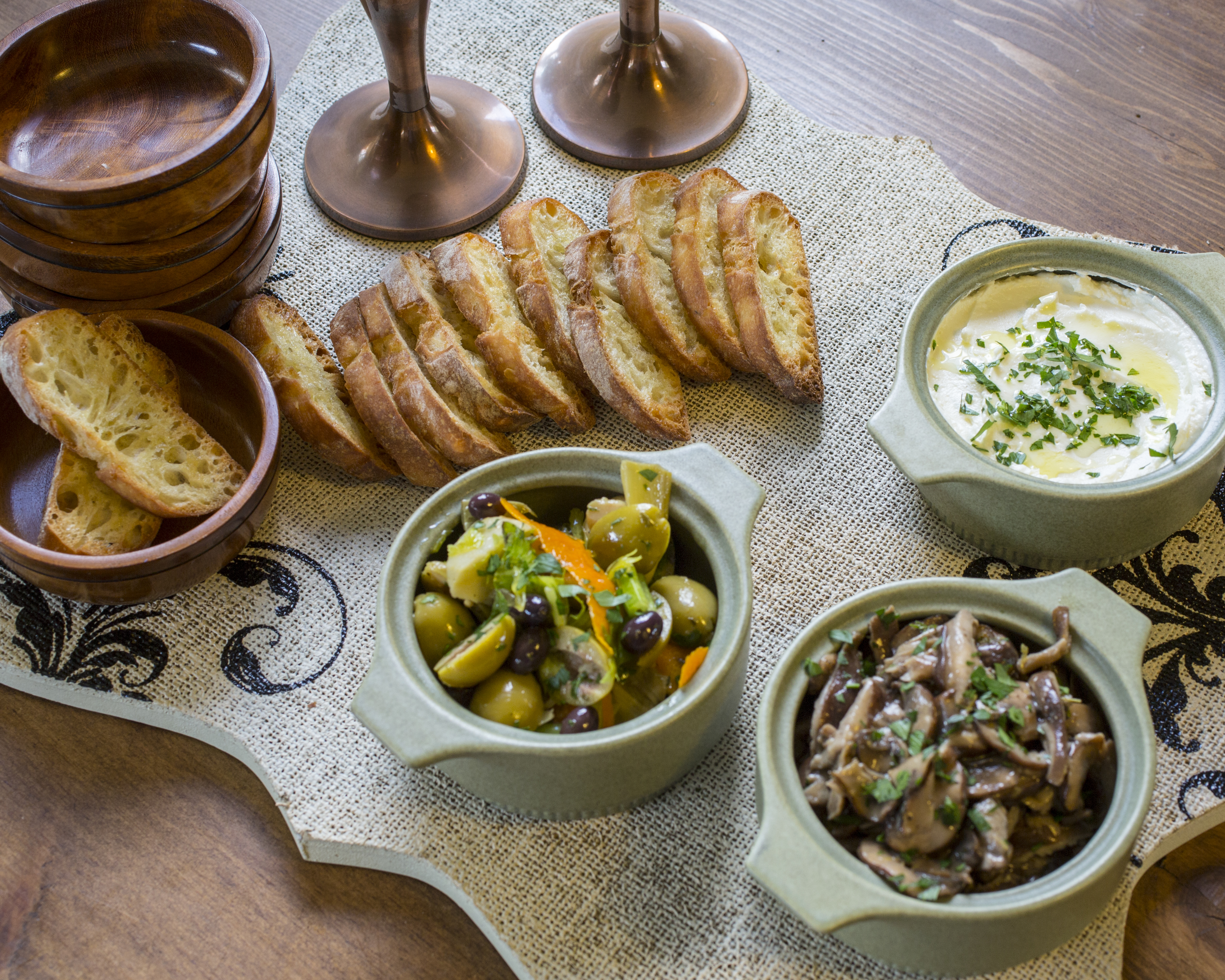 Maryanne O'Dowd is an avid home cook, entertainer and writer. She lives in Lake Barrington with her husband and a loveable yellow lab. Follow her blog www.cookingfrommemory.com and her posts on Instagram @cookingfrommemory.

Photography by Kelly Olmstead.