FARMERS MARKET TO YOUR TABLE. FAST AND FRESH.
By Maryanne O'Dowd
It's always a good time to hit the farmers market and right now growers are especially flush with the season's bounty. This month's blog post focuses on making the most of your farmer's market haul. 
Even if you grow your own or shop the grocer's produce section, these recipes and tips help you showcase the rich flavors, colors and textures abundant this time of year. 
Who doesn't associate August with tomatoes? I've created a rich, gooey tomato jam (Yes! Tomato jam!) that works well as a condiment on burgers, alongside a cheese tray, slathered over warm toasted bread that's been rubbed with a garlic clove, or, as featured here, topping off savory, buttery thumbprints as an appetizer.
Tomato jam is lightly sweetened and gets its intense flavor from slowing reducing a tomato mixture with some herbs and spices. My recipe is pretty straight forward, but you can experiment with other spices or herbs and the addition of other savory ingredients. Do I hear someone thinking bacon is a good idea!!?
I'm an advocate of letting the true flavors of high-quality ingredients take center stage. If I can bring out the best an ingredient has to offer, then my job in the kitchen is won and done. An abundance of fresh produce makes the job practically foolproof. 
A perfect example of letting fresh ingredients shine without much fussing is my fruits of summer salad layered over honey whipped ricotta. It screams summer, it is ridiculously easy to prepare and makes the perfect starter to a grilled dinner or light meal along with some bread or whole grain crackers. 
Don't let an over ambitious trip to the farmer's market paralyze you in the kitchen. You might have bought twice as many peaches and tomatoes as planned, over did it with the swiss chard, or thought kohlrabi looked like a good idea at the time. Take a deep breath and surrender to the season. Mother nature has got this one.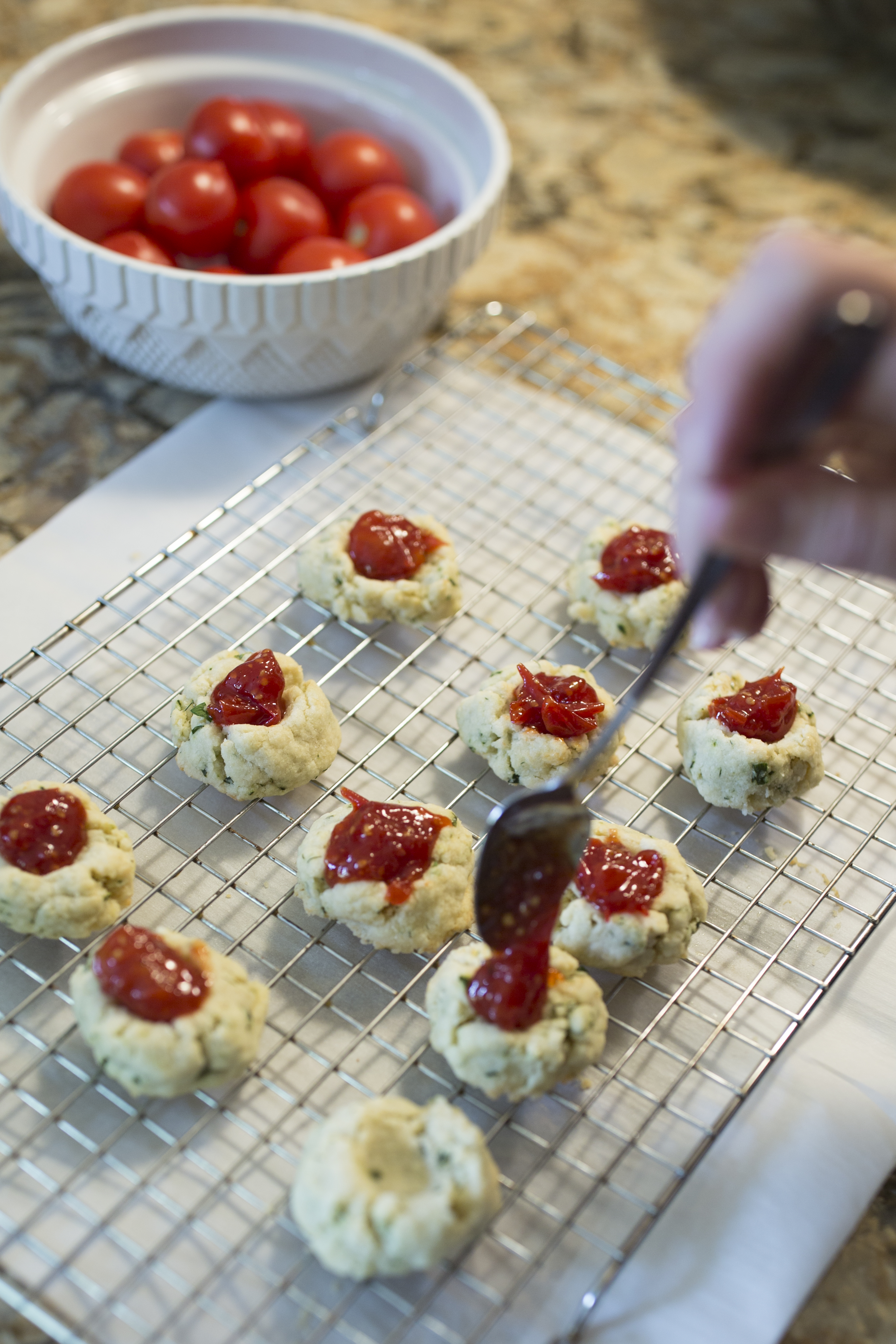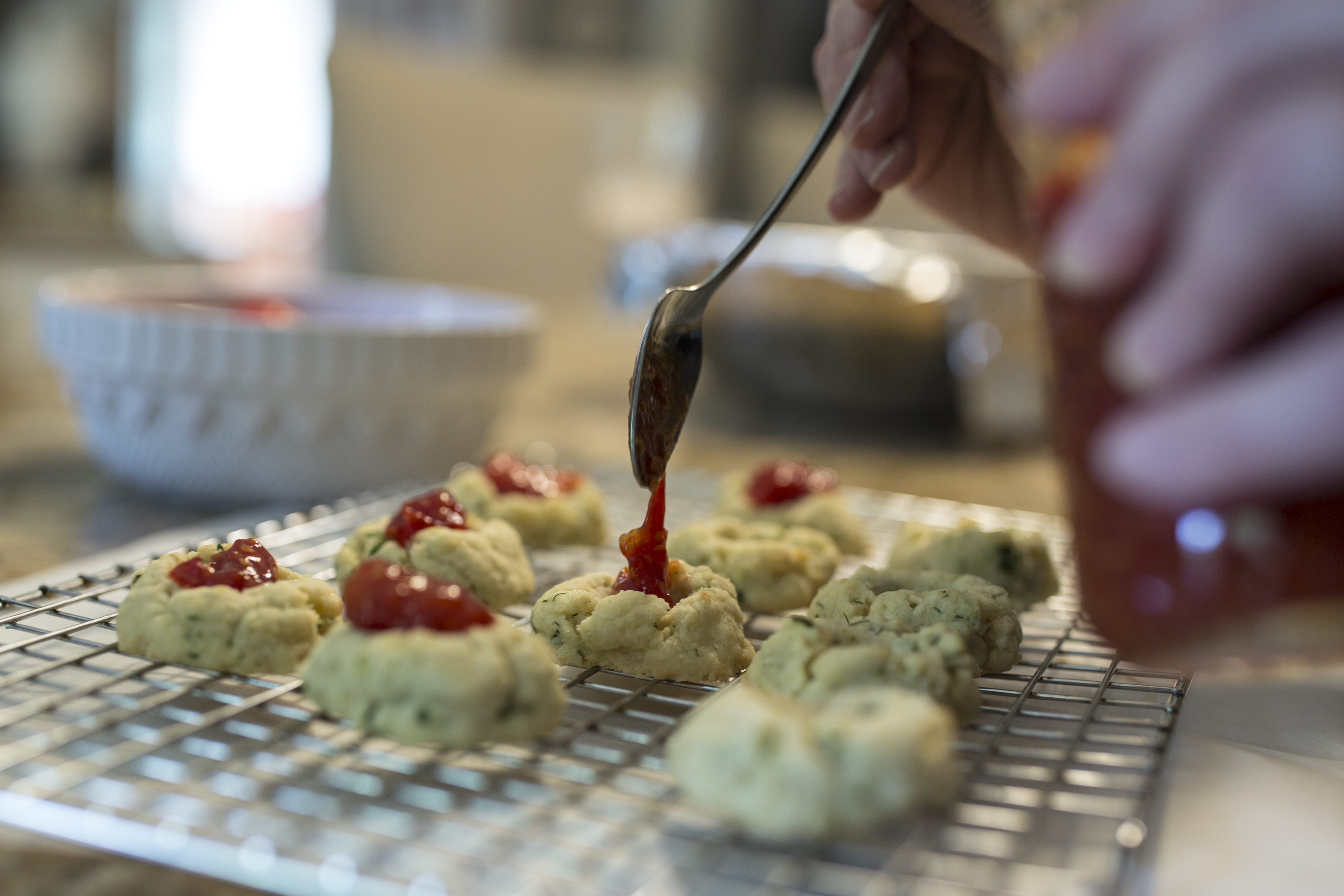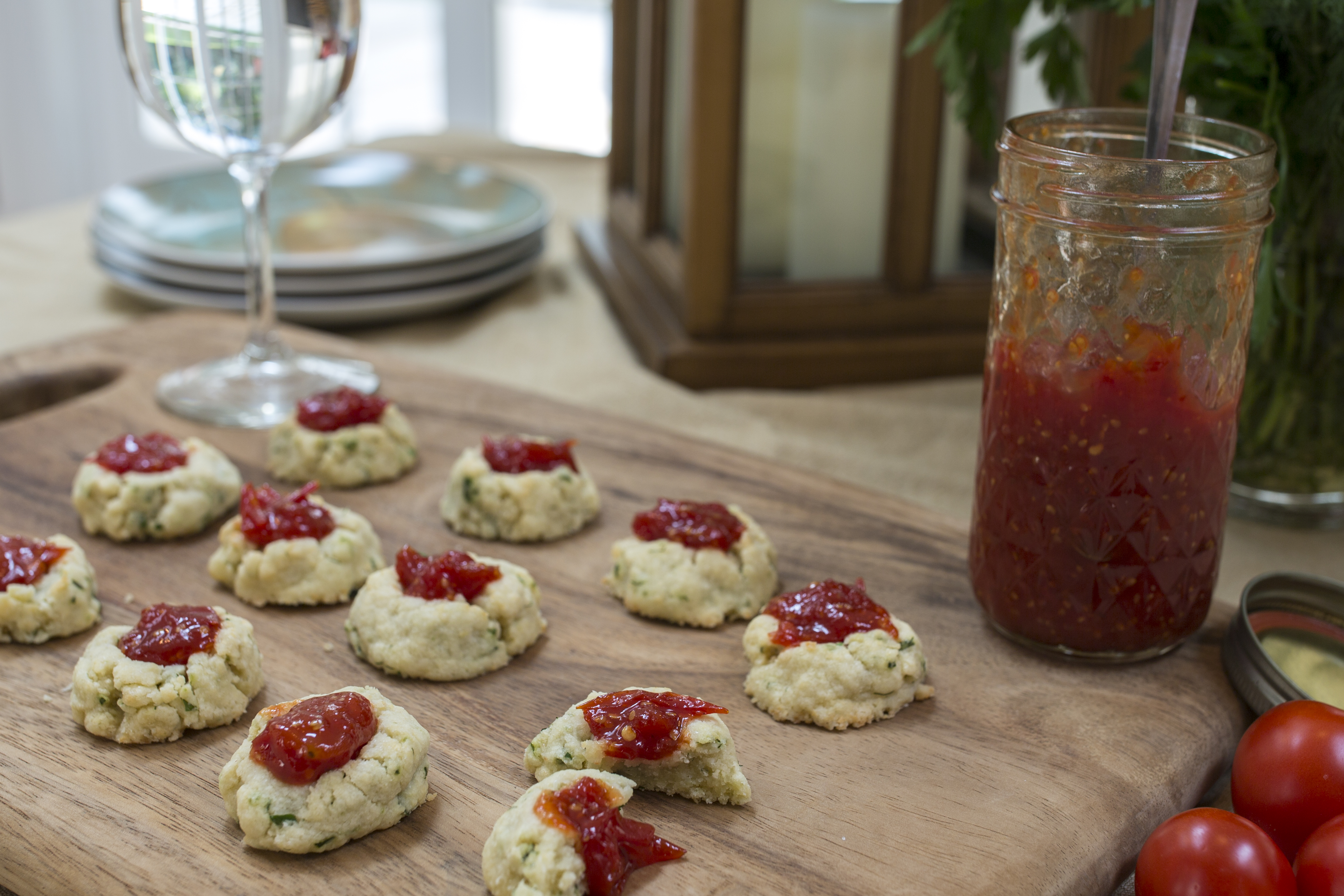 Aged Cheddar & Herb Thumbprints with Tomato Jam
Thumbprints
1 cup (2 sticks) butter, softened
¼ cup sugar
2 cups flour (all purpose)
1 cup shredded/grated aged cheddar cheese
2 tablespoons finely minced fresh herbs (I used a mix of parsley, dill, chives and basil)
Preheat oven 350˚
Cream butter and sugar by beating with electric mixer at medium speed. Add flour, cheese and minced herbs and continue mixing at low speed until all ingredients are thoroughly blended. Form dough (it might be crumbly) into 1-inch balls and place (about 2" apart) on baking sheet lined with parchment paper. Make "thumbprint" indentation in center of each cookie with finger or spoon. Bake 10-12 minutes until light golden. Transfer to cooling rack – cool completely. Top with tomato jam and serve. Thumbprints can be made 2-3 days in advance, stored in airtight container and filled just before serving. 
Tomato Jam
1 pound cherry tomatoes (red or yellow) – halved or left whole, depending on how chunky you want the jam
5 tablespoons apple cider vinegar
½ cup sugar
1 large clove garlic, cut in half
1 teaspoon red pepper flakes
½ teaspoon sea salt
Add all ingredients to a heavy saucepan. Bring mixture to a boil over medium flame, stirring occasionally to dissolve sugar. Keep mixture at a low boil (careful not to burn or scorch), stirring and crushing tomatoes with back of spoon. Keep cooking/stirring until mixture thickens. Time will vary depending on moisture level of tomatoes – my batch cooked for approximately 20 minutes. When done, remove from heat and discard garlic cloves. Cool. Store in glass jar, refrigerated, until ready to use – keeps for about one week.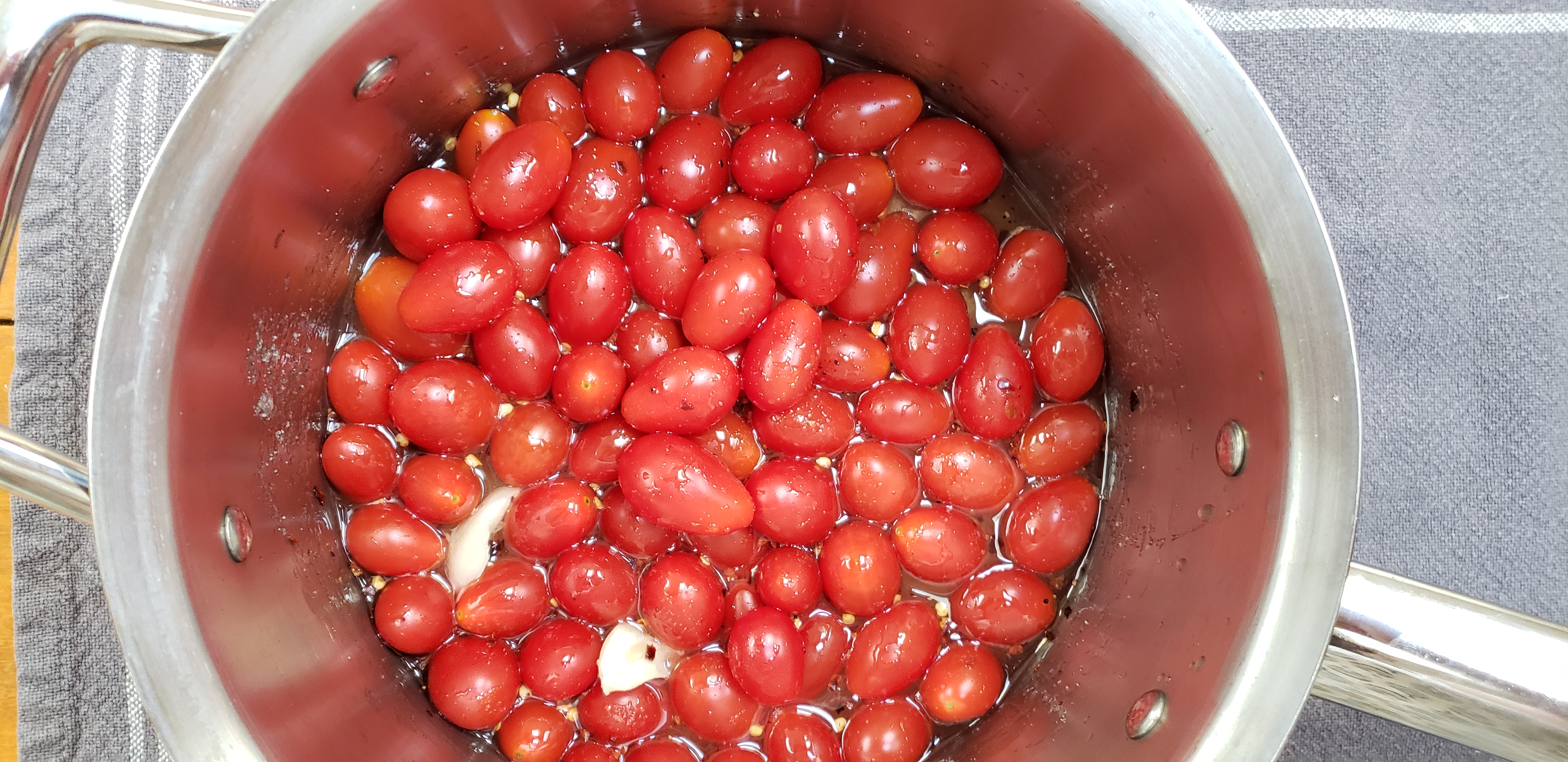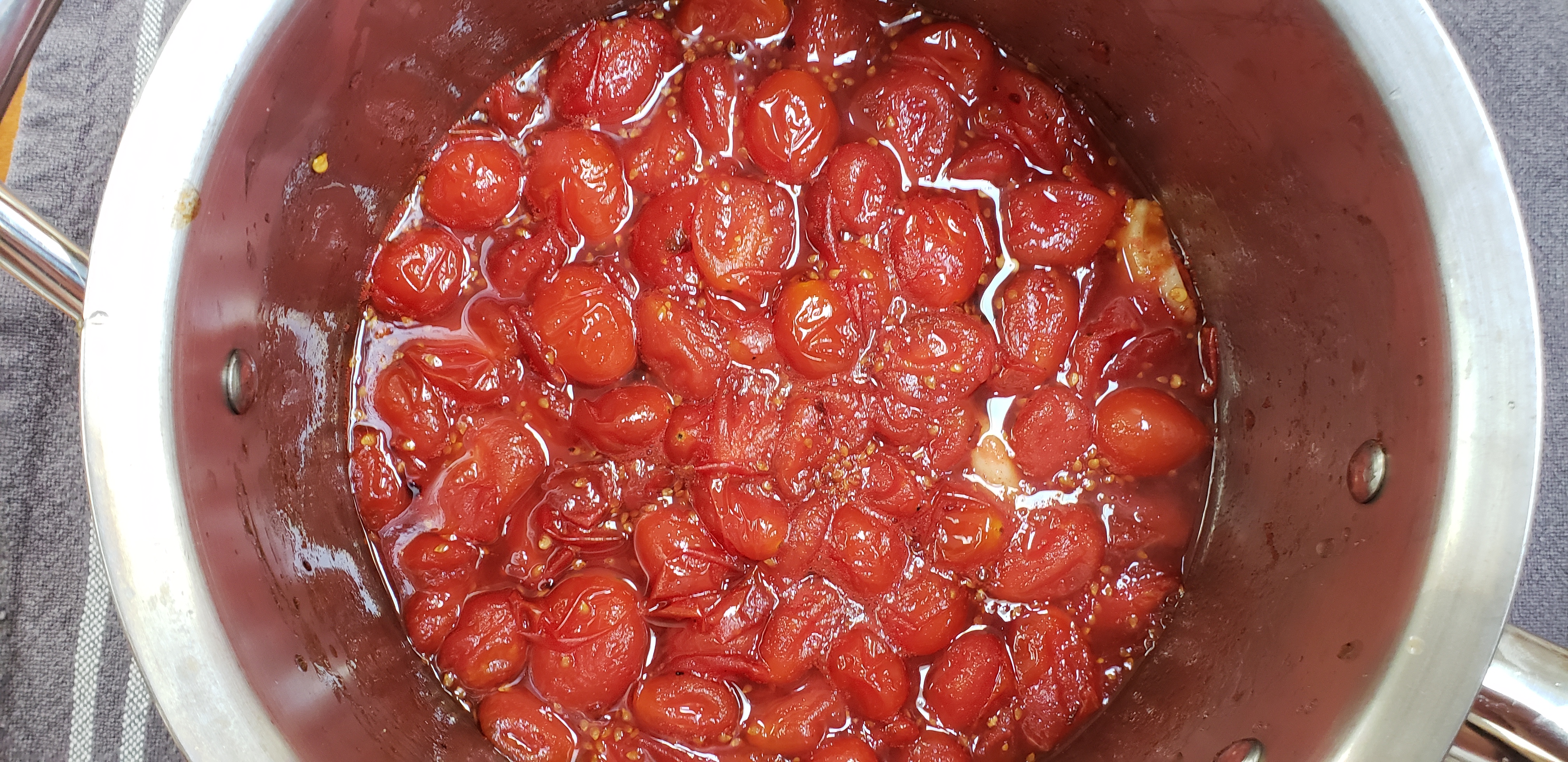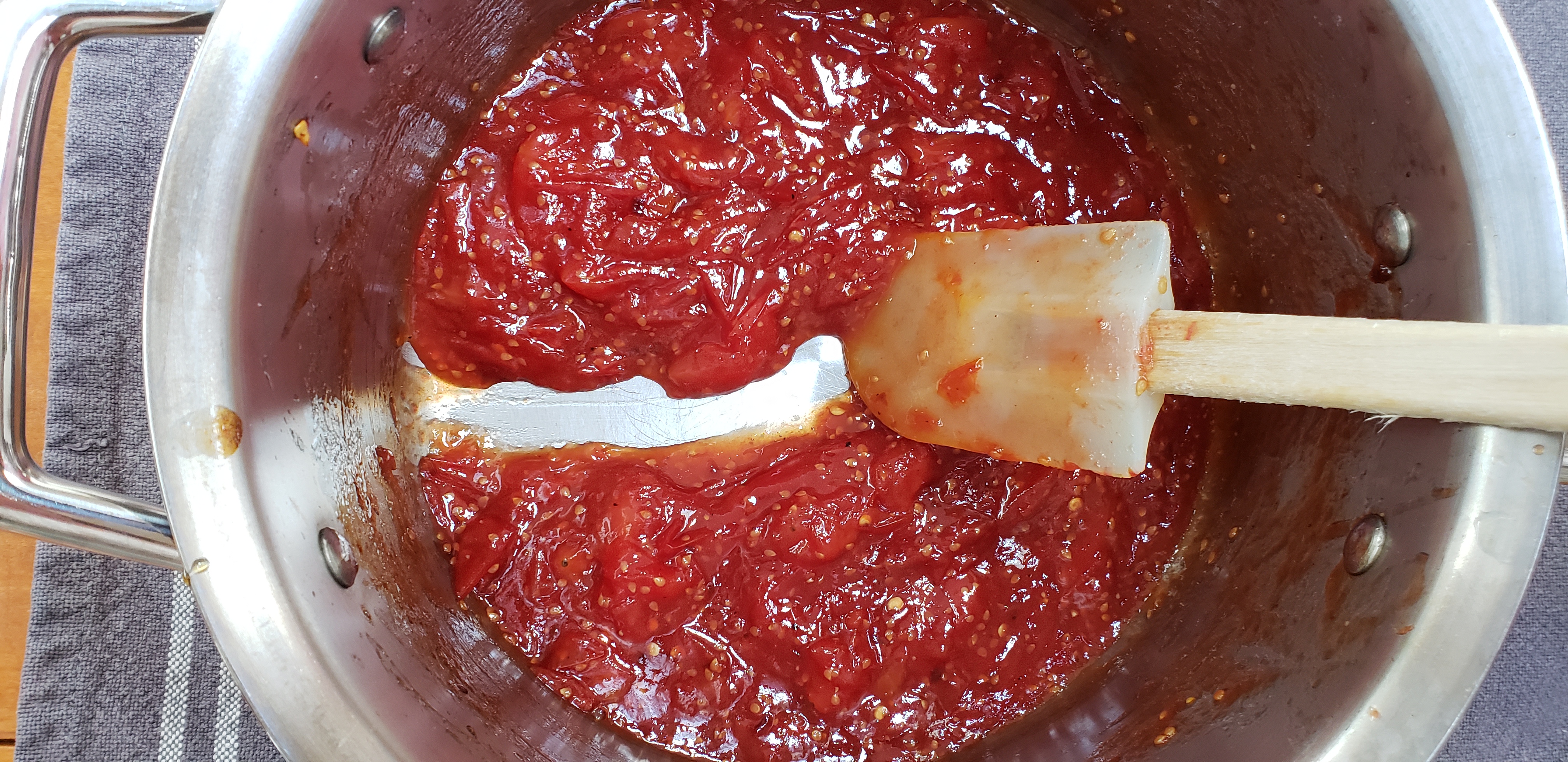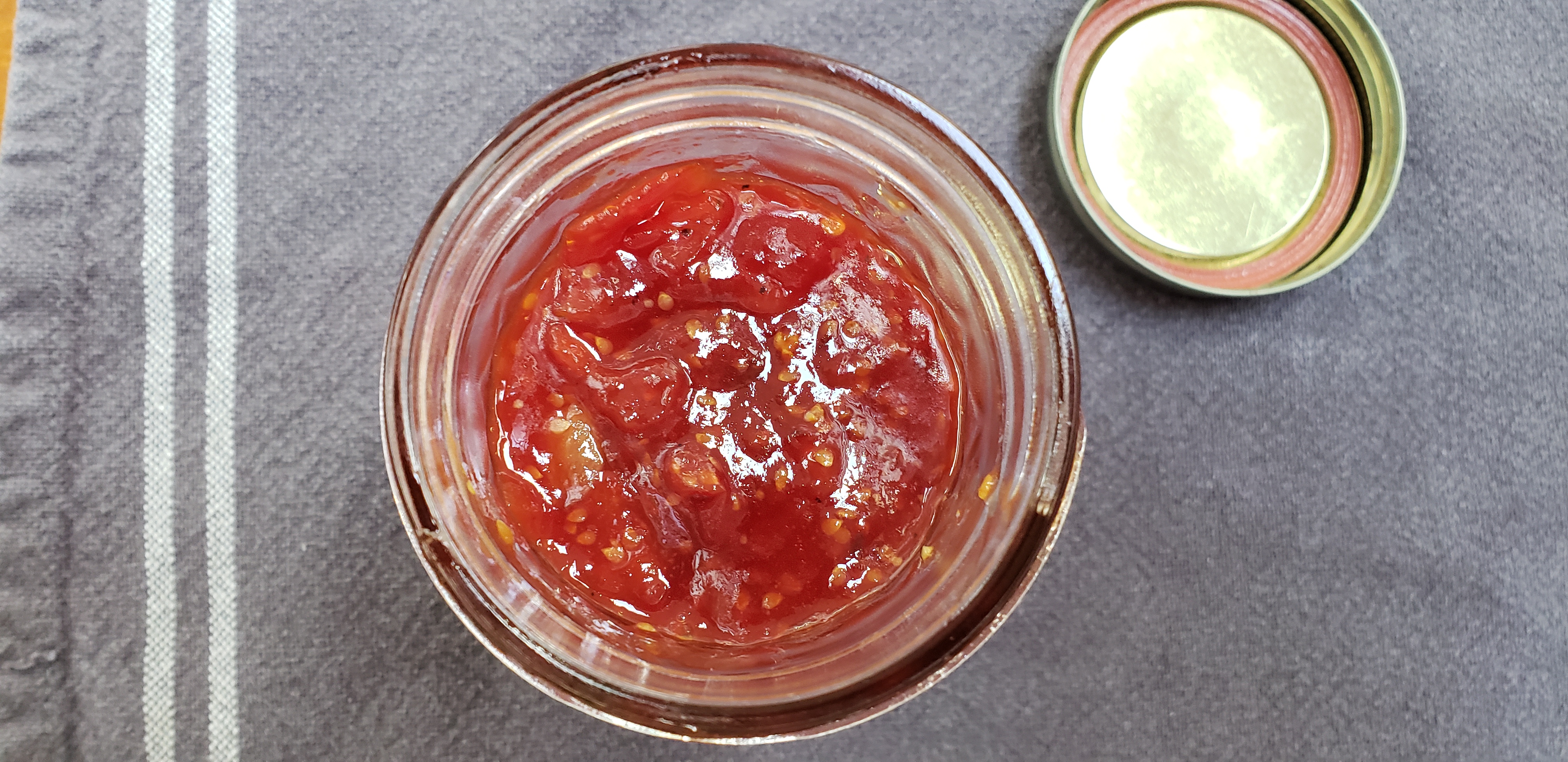 Fruits of Summer Salad with Roasted Hazelnuts and Honey Whipped Ricotta 
1 large, ripe peach or nectarine – pitted and sliced into 1/2" wedges
¾ cup sweet cherries, pitted and halved
3-4 medium tomatoes, cut into 1/2" wedges
3 cups arugula
1/2 cup hazelnuts (lightly roast shelled nuts on stove in heavy skillet with one teaspoon olive oil until skin starts to darken and aroma is released – shake skillet to keep nuts from burning).
Prepare fruits, greens and nuts. Spread ½" layer of ricotta cream (recipe below) across a large, flat platter. Top with arugula then peaches, tomatoes, cherries and nuts. Lightly drizzle with honey apple cider vinaigrette (recipe below) and serve with crusty bread or crackers (to scoop up the yummy ricotta!).
Honey Whipped Ricotta Cream: Blend one 15-ounce container of whole milk ricotta with 1½ tablespoons of good quality honey – whip until smooth and creamy using a whisk or hand-held mixer.
Honey-Apple Cider Vinaigrette: Whisk 1 tablespoon honey and 1/3 cup of apple cider vinegar until blended. Add 2 tablespoons olive oil and salt and pepper to taste – continue whisking until well blended. Whisk/mix again before serving.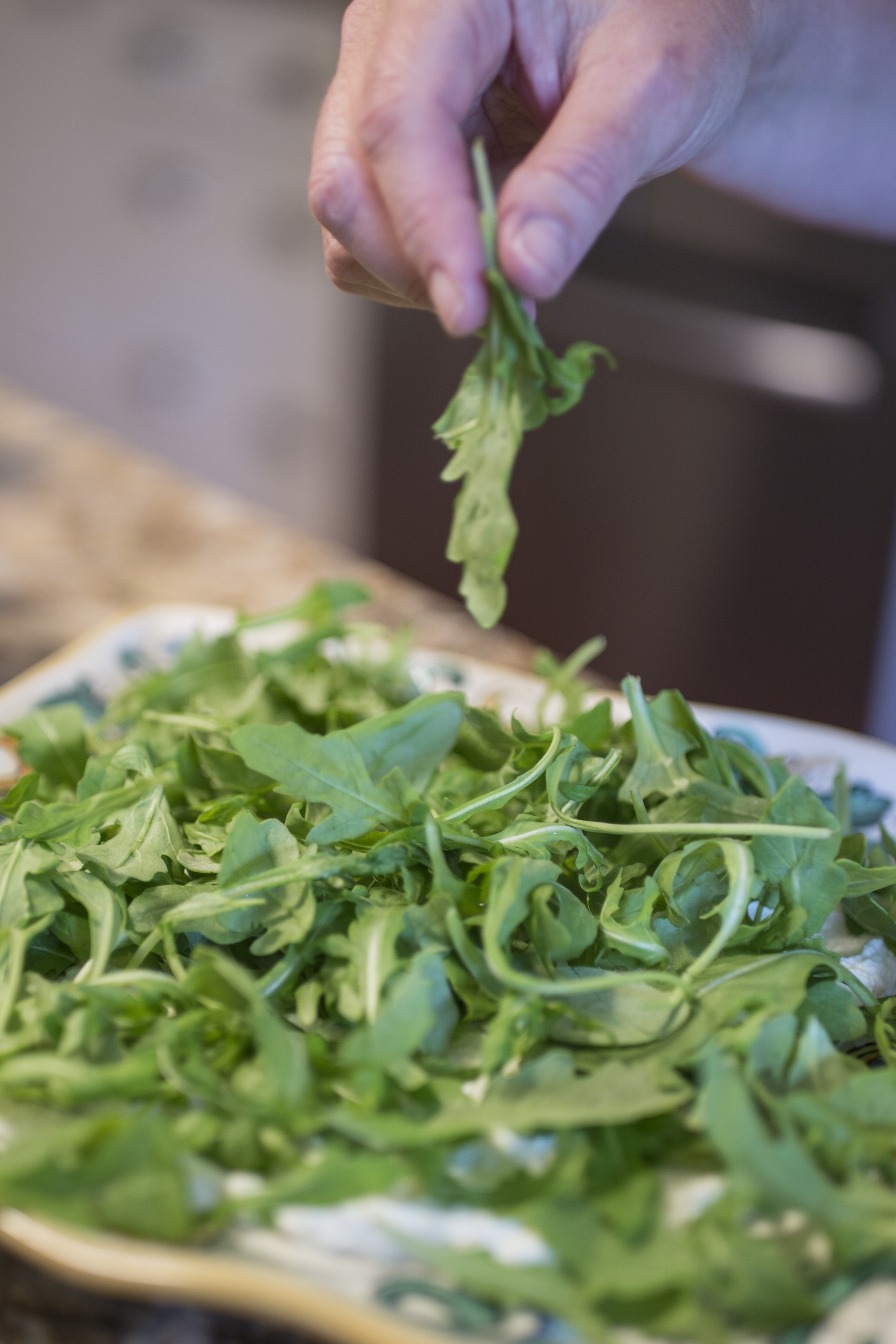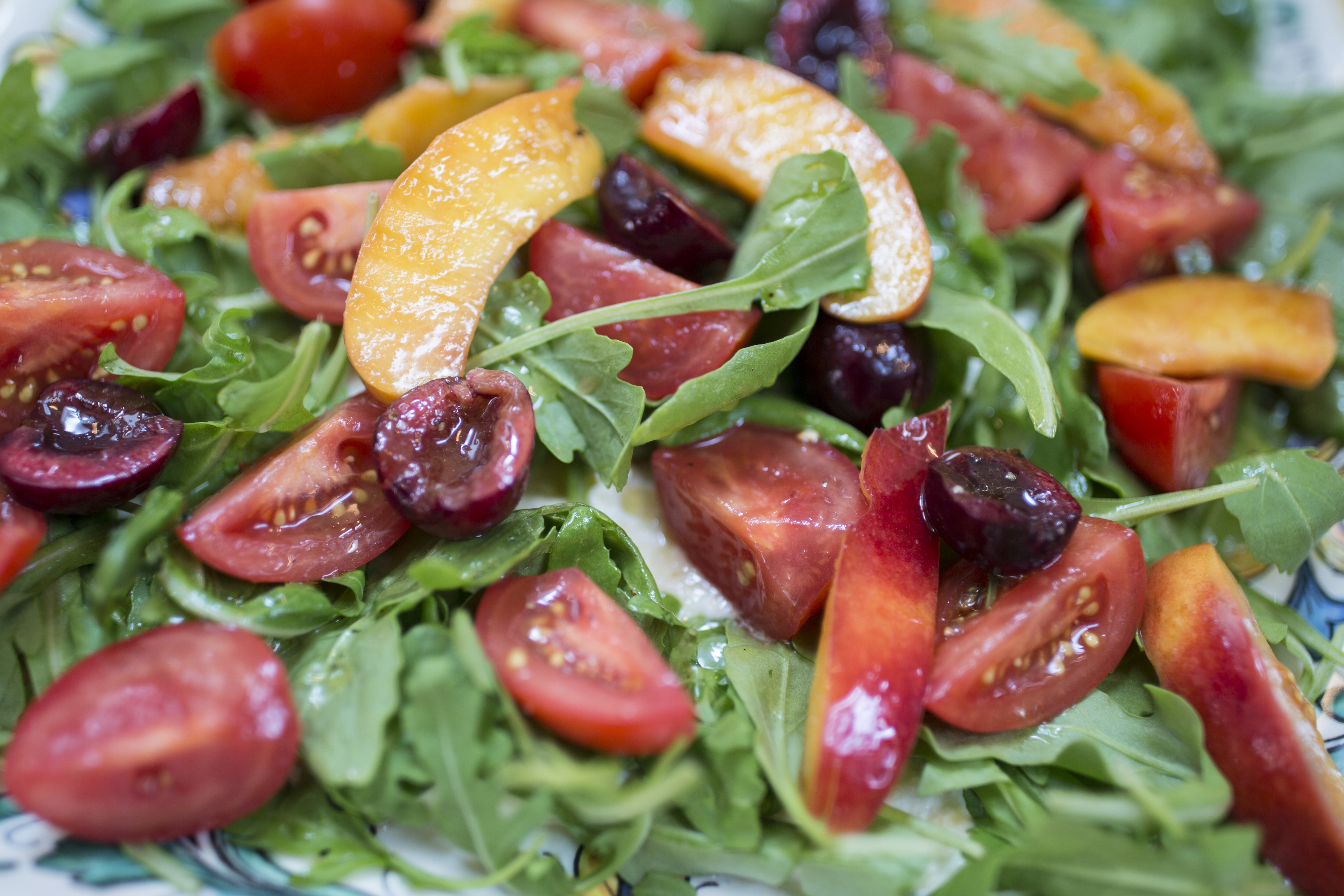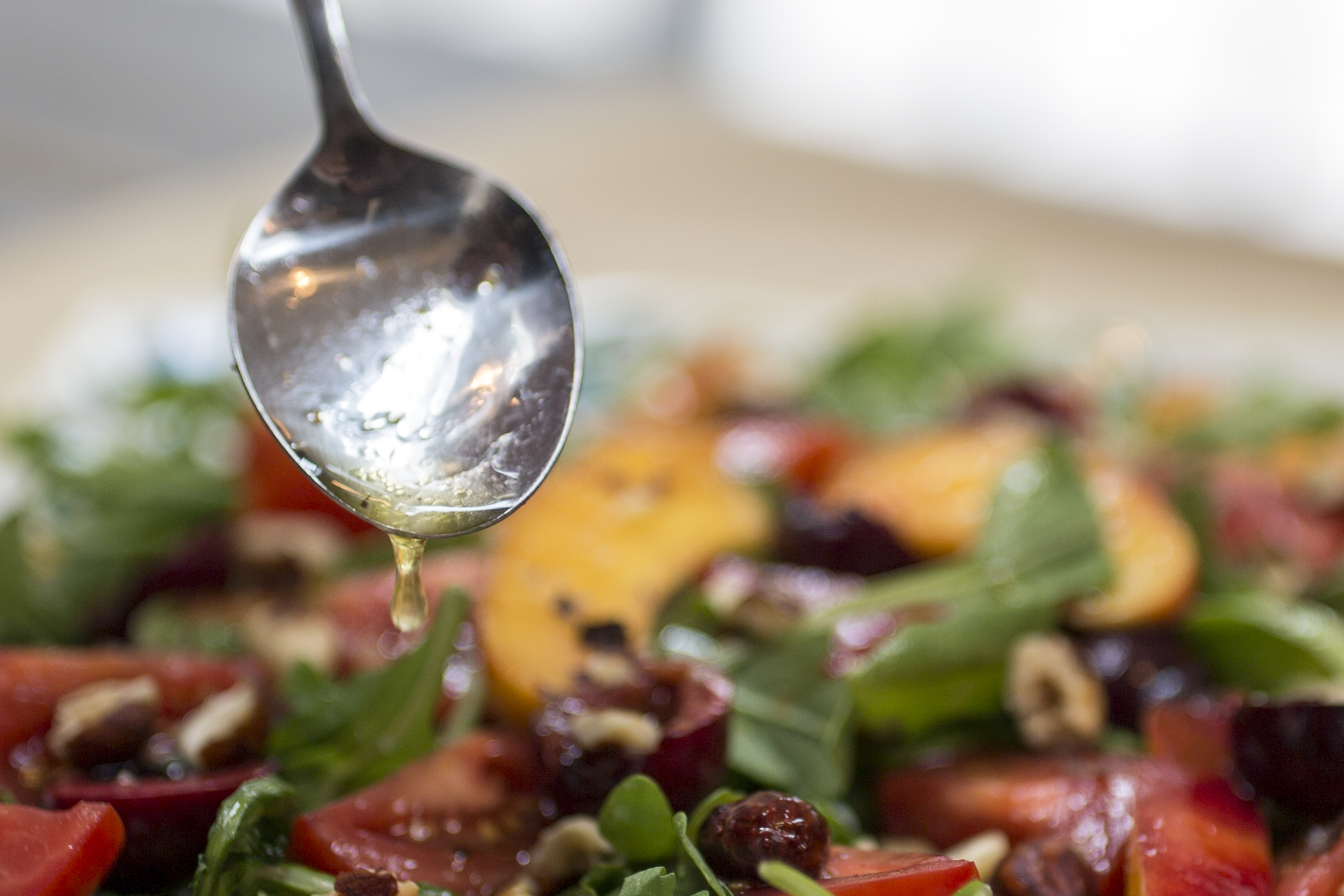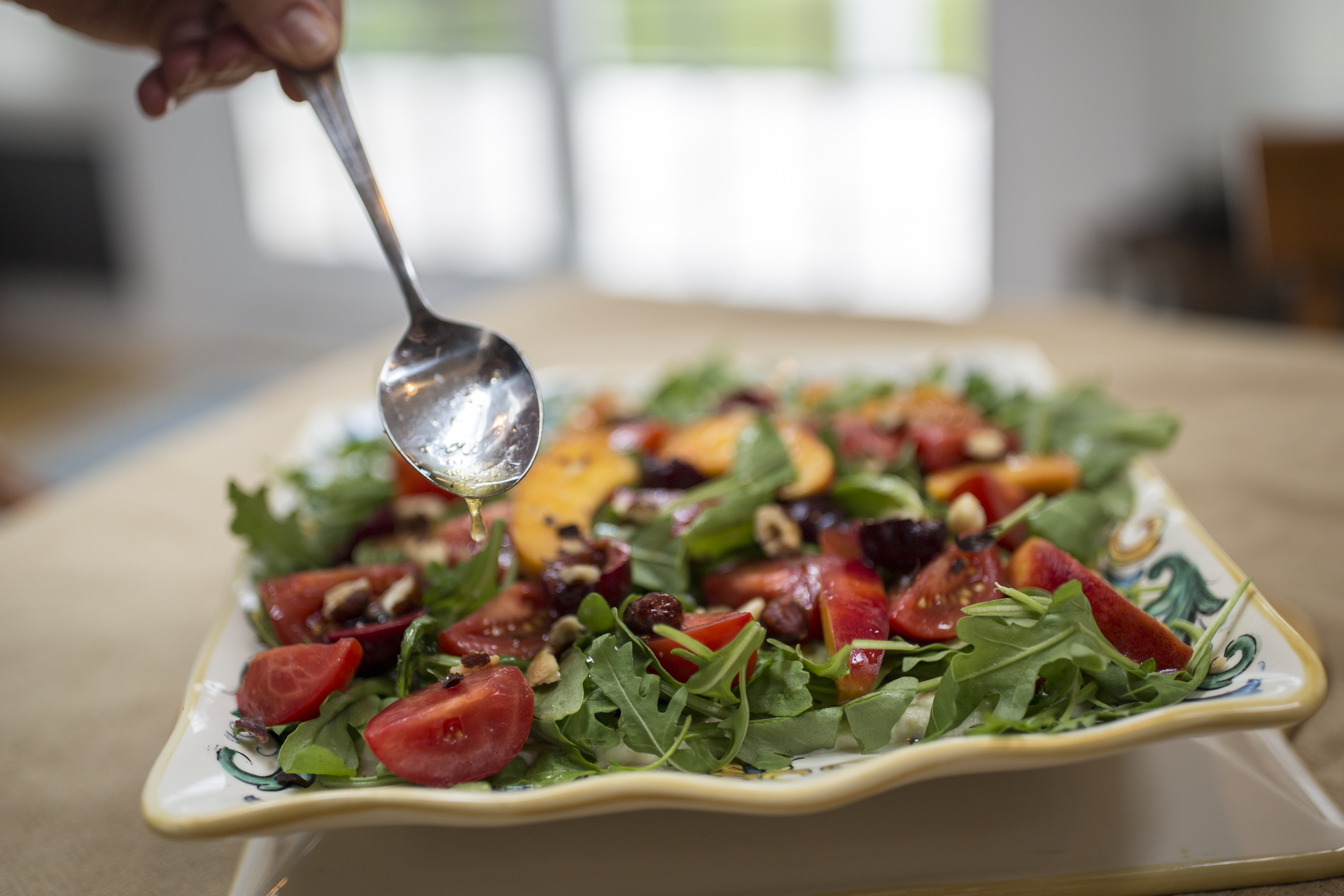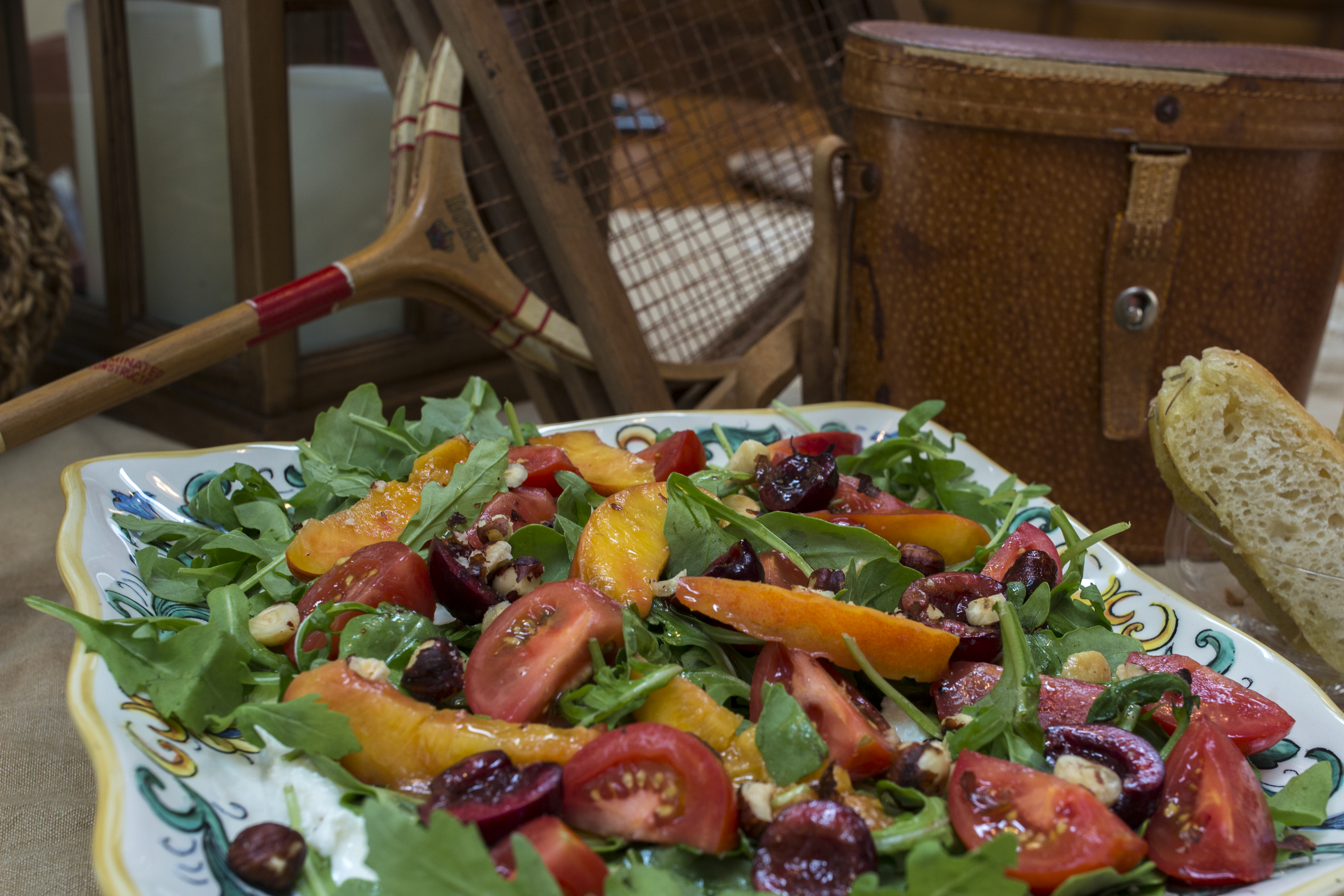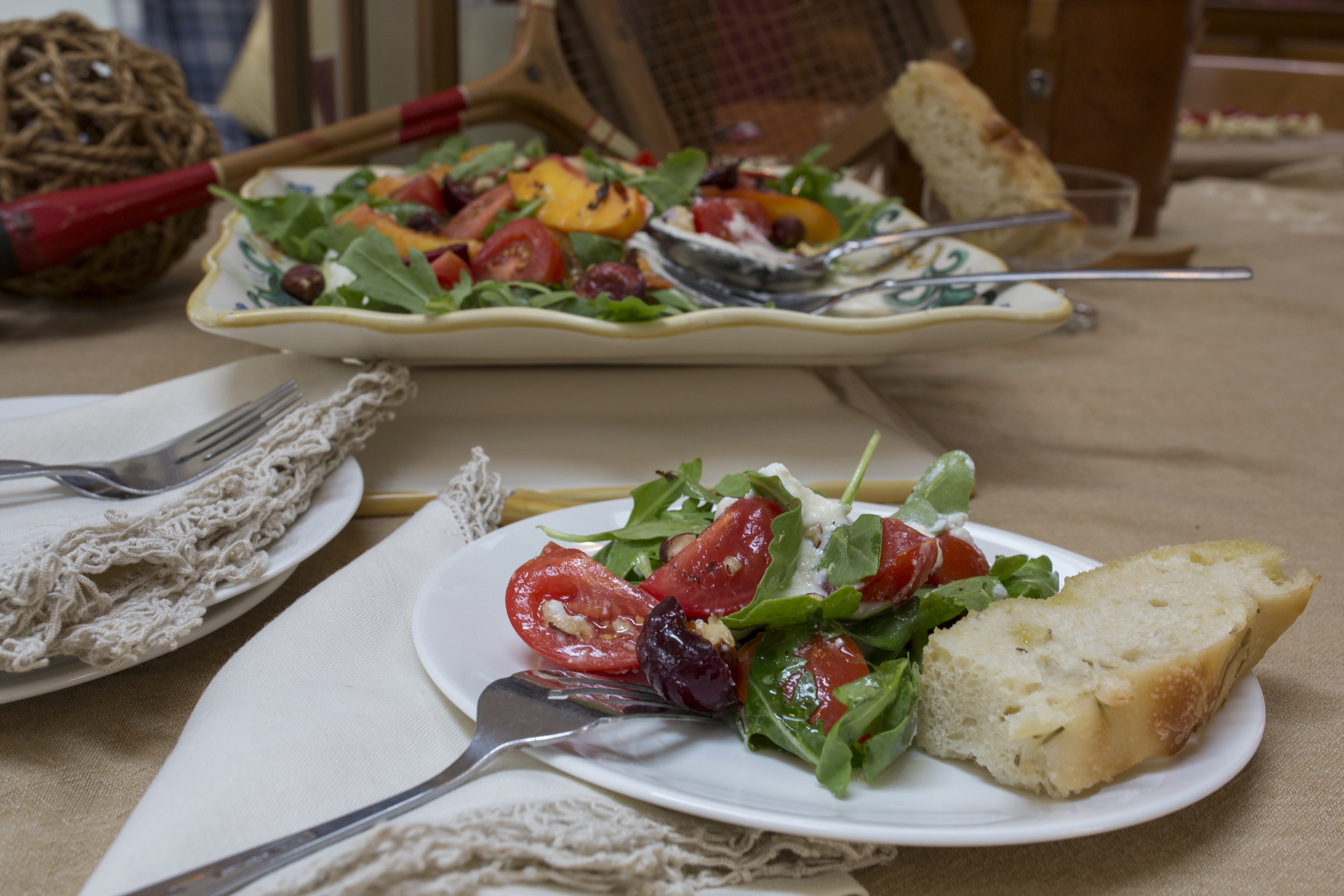 Copyright© 2018 Maryanne O'Dowd
Photos by Kelly Olmstead
Maryanne O'Dowd is an avid home cook, entertainer and writer. She lives in Lake Barrington with her husband and a loveable yellow lab. Follow her on Instagram @CookingFromMemory.