PG Flavors and Flourishes
August 2017
Lazy Days of Summer – A Little While Longer
It's that time of year. Sunsets tuck in earlier. Nights beg for a jacket. Yet there's still time for summer's flavors to take center stage on our tables and carefree spirits to imbue gatherings of family and friends.
Building a menu around foods in season, or eating the seasons as I call it, shows thoughtfulness and a reconnection with nature's cycle. Plus, seasonal fruits and vegetables often require little intervention. Simple, no hassle preparations allow more time for enjoying each other and this fleeting time of year. But don't confuse simple with short on flavor.
This month's recipes will have everyone around the table saying "it tastes like summer" and filling plates with second helpings. They'll probably imagine "Roll out those lazy, hazy, crazy days of summer…You'll wish that summer could always be here…" playing off in a distance too.
Zucchini Carpaccio
2 lbs. zucchini (good time to use large, end-of-season zucchini)
1 ½ tablespoons pine nuts
1 tablespoon flat leaf parsley, chopped
Olive oil
Juice of half fresh lemon
Fresh cracked pepper
Sea salt
Parmesan cheese
Toast pine nuts: Heat teaspoon of olive oil in small skillet over medium heat. Add pine nuts and toast until rich golden color, about 2-3 minutes, stirring/swirling pine nuts frequently to keep from burning.
Wash, dry and trim ends of zucchini. Slice zucchini into circles on the bias using a mandolin or sharp knife. Cut as thin as possible – think of thinly sliced luncheon meat.
Arrange zucchini slices in single layer to form concentric circles (or other eye-catching design) on serving platter. Sprinkle pine nuts and parsley over zucchini; drizzle with high-quality extra virgin olive oil and lemon juice. Top with shavings of parmesan cheese, salt and pepper. Serve with a crusty baguette.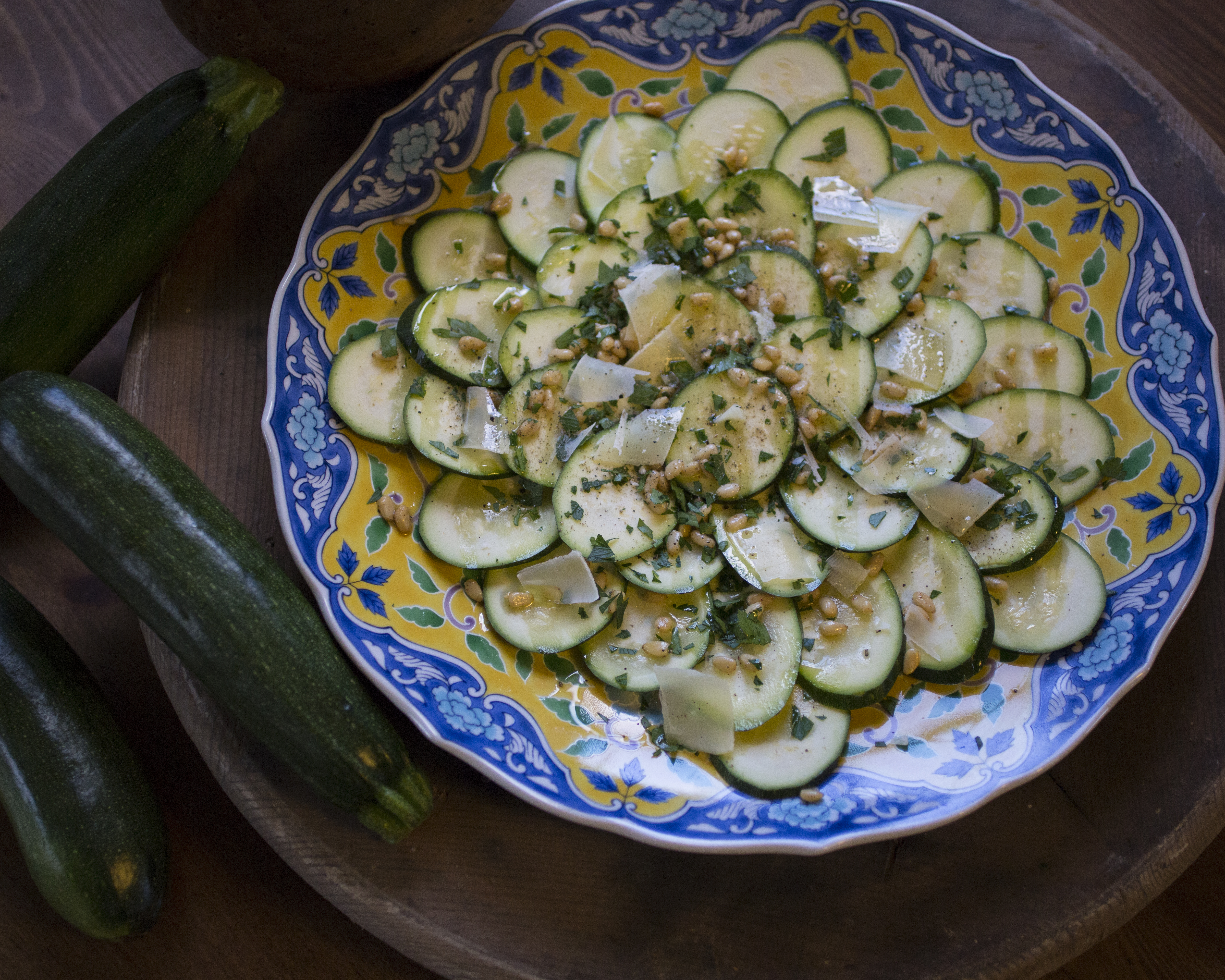 Rosé Soaked Summer Fruit with Elderflower Whipped Cream
3-4 medium peaches or nectarines
1 lb. strawberries
2 cups dry rosé wine
1 tablespoon honey (Acacia honey is my preference, but any will do)
1 cup heavy whipping cream
¼ cup elderflower liquor, such as St. Germaine
Wash and cut peaches (about 12 slices per) and strawberries (into quarters) and place in decorative glass serving bowl. Mix honey and rosé and pour over fruit. Chill for two hours before serving.
Before serving, whip cream with elderflower liquor until soft peaks form. Serve alongside fruit.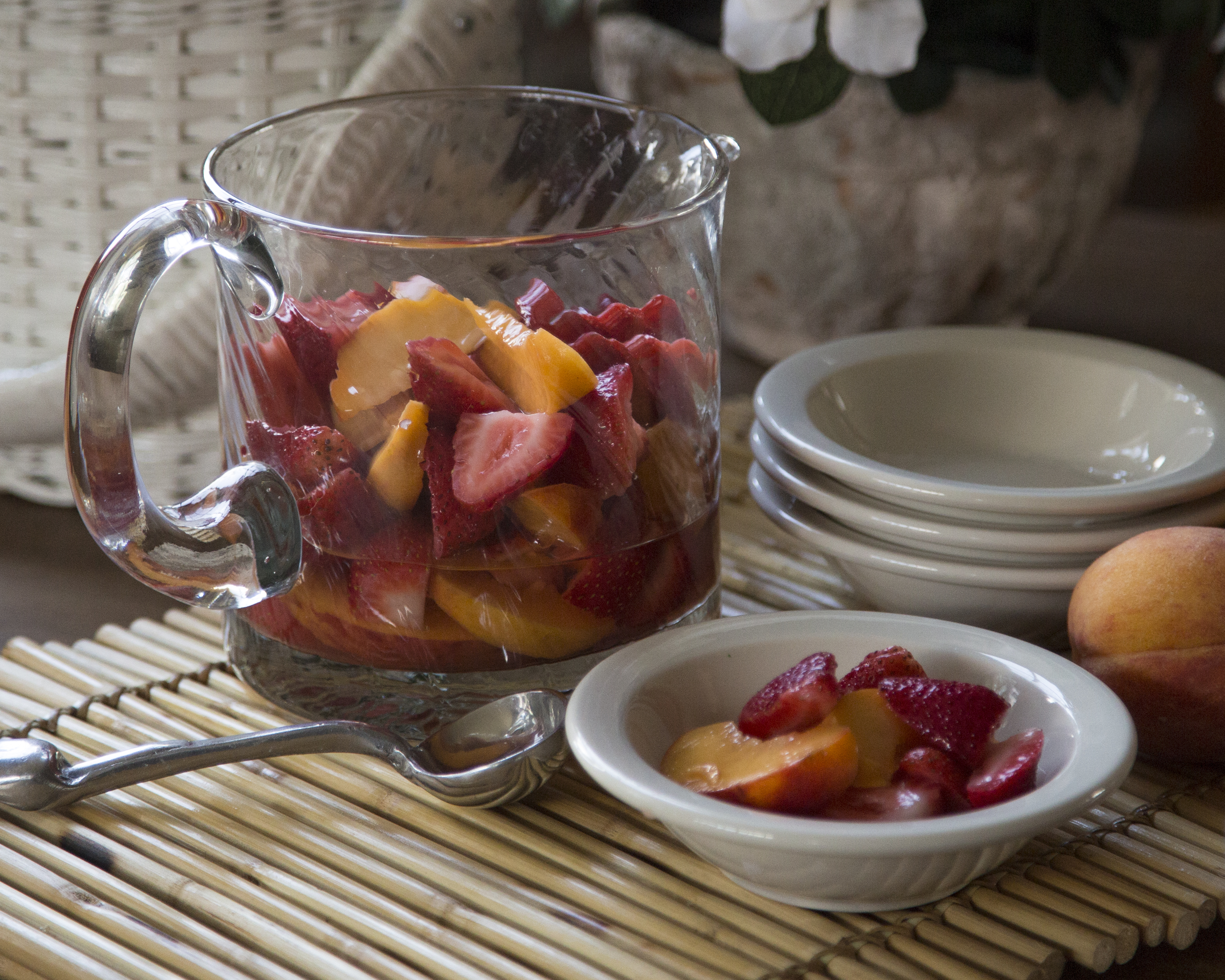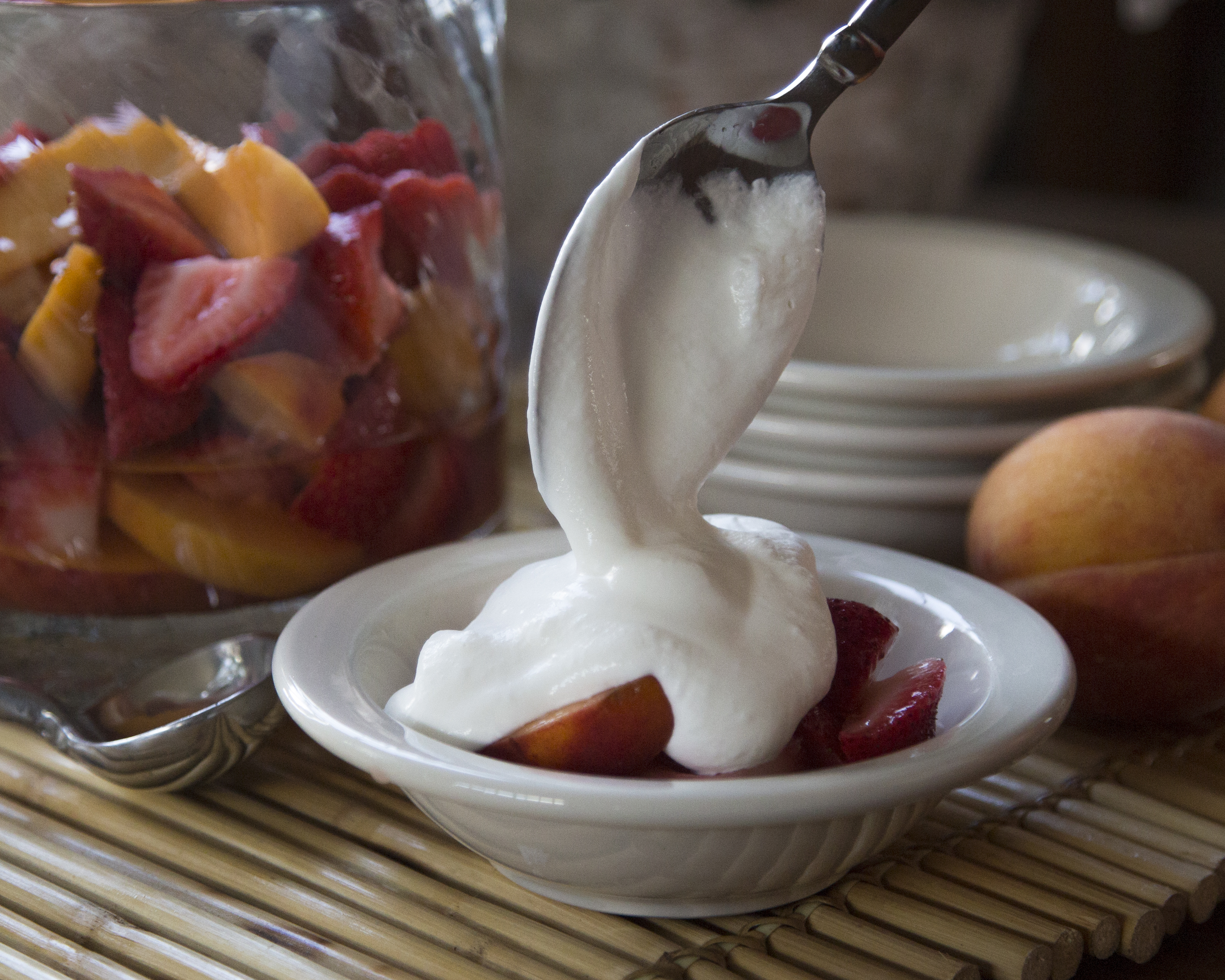 ____________________
Maryanne O'Dowd is an avid home cook, entertainer and writer. She lives in Lake Barrington with her husband and a loveable yellow lab. Follow her on Instagram @SconesThrowKitchen.
Photography by Kelly Olmstead. Dishes and Entertaining pieces provided by The Pink Geranium & Co.